Villas for sale Calgary around every corner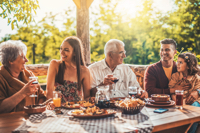 We see a LOT of homes in Calgary being bought and sold. We see the new constructions that pop up. We see the new communities that have meteoric rises in growth. We see all of this because we're plugged in to the real estate market here and have been for over 15 years. That has given us a unique perspective on new trends and exciting possibilities in homes here. One of those trends is the rise of villas for sale in Calgary.
These one-story townhomes are now a common sight, found in new communities as well as some of that have existed for decades. We have seen the purposeful creation of these villas in every sector, every quadrant of the city. Let's look at the purpose of them and how you can have your very own interest in the villas of this city,
Bungalow Villas in Calgary
October 22, 2019
Finding Villas in Calgary
The way we see things, there is no end to the construction of townhomes in new communities. They afford an option for people to buy a home in Calgary without paying high prices for the single family detached housing options. These townhomes are often two or three-storey buildings. When we look at communities like Walden, Seton, or McKenzie Towne, we see streets lined with tall townhouses, skinny buildings with a few levels in them.
But it's not just these options that are being built. Villa townhouses are the large, single-storey townhomes that you will see in new as well as older communities. We find that people love what they offer and how they meet the housing needs here in the city. They offer great options for those with limited options or small budgets. Typically, you will find attached garages in many of them, a feature once only applied to houses and duplexes. You can also often get all the outdoor work managed by an outside contractor such as the gardening and snow removal. It's hassle-free way to be a homeowner in Calgary. Villas for sale are all over the city and here are just a few of the destinations.
Villas in Calgary Southwest (SW)
Recently, I took a trip to Silverado, a still-growing community on the edge of Calgary's southwest quadrant. I came across an entire complex of villas being built. As I toured through, I saw an example of the great villas around the city that you can find. It was a single storey townhome, attached double garage for good storage and with 2 large bedrooms and an office.
This is becoming a typical townhome in many of the Calgary SW neighbourhoods. In places like Belmont and Yorkville, plans are drawn up to include several pockets of villas throughout the community. It's now a feature that builders offer as a respectable option for living there. In neighbourhoods closer to downtown, we see a different trend. In places like Bankview or Mount Royal, older homes that have long past their valuable days are being torn down and villas put in their place. For inner city lots, this represents a new and exciting option from the apartments typically built.
Villas in Calgary's Northwest (NW)
Calgary's new north is one of the hottest areas in the city, rapidly expanding outward as more and more people move to the city, putting greater demands on builders here. This is a good thing and creates opportunities in communities like Livingston, Evanston, and Sage Hill to create networks of townhomes and villas in their community centres.
Again, other communities like Bowness or Varsity have the same issue as other older neighbourhoods, old bungalow homes that are tired and in desperate need of upgrades.. Townhomes are the popular choice for developers and we see that as the listings around Calgary are continually populated with Calgary villas for sale.
Villas in Calgary's Southeast (SE)
In the southeast, the vibe and atmosphere is very different from anywhere else in the city. It's a typically very young quadrant of the city, with young families choosing to live in the communities with lake access and newer homes. This precipitates another need for affordable housing, with townhomes providing a quick and easy solution. Find townhomes and villas aplenty in places like Mahogany, Cranston, or Legacy. Living in the edge of the city allows residents to have the choice for more expansive villas that suit their growing family needs.
If you're keen on finding a villa in Calgary perfect for your needs, give us a call. Chamberlain Group has been working with Calgarians to buy and sell Calgary homes for 15 years. Call us today on 587-316-5400 or start a conversation at [email protected].