Buying Houses for Sale in Calgary's North West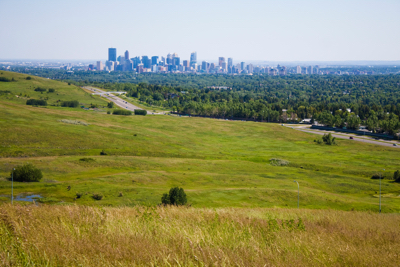 If you've lived in Calgary for any period of time, you already know that people define where they live by their quadrant. "I live in the Southwest. He lives in the Northeast." Each sector of Calgary comes with its own advantages, its own challenges, and even its own culture. Talk to any Calgarian about living in another area of the city, and they'll tell you why their neighbourhood is better. It's part of living here. It's no different for houses for sale in Calgary north west. NW Calgary has a mixture of housing options and a wonderful amount of amenities.
We are the Calgary real estate experts. Why? Because we live here too. Why should you buy in a home in Calgary's northwest? Let us count the ways
Advantages of Calgary's Northwest Houses for Sale
One week a year, you transform yourself into a cowboy. You think Jarome Iginla was the pride and joy of the city. You have definite thoughts on the Blue Ring. All these phenomena are familiar to people living in the city. But there's nothing that defines you as a Calgarian more than rigorously defending the sector of the city you live in. If you live in the Northwest, you KNOW that it's the best sector of the city.
But maybe you've never tried it out. Maybe you don't know why people are so adamant that living in the northwest is the best part of Calgary. Let us help shed some light on why people love buying northwest homes for sale in Calgary, and why they stay here. There are housing options to suit everyone, so let's look at what else this quadrant has to offer.
Homes for Sale in Calgary NE
We wouldn't be doing our job if we didn't also mention that Northeast Calgary has many of the same opportunities and amenities as the northwest. When you look at them on paper, they're pretty much the same. It will come down to preference, and we can help you find the perfect home in Calgary's northeast if you need as well.
Transportation in Calgary's Northwest
This area of the city is expansive, primarily residential with communities ranging from the brand new Sage Hill and Rocky Ridge to some of Calgary's oldest neighbourhoods like Sunnyside and HIllhurst. But traveling around is very easy. Major roads like Crowchild Trail or the Trans-Canada Highway make it easy to move around. The C-Train also covers most of this area for those choosing to take public transport. Most communities are within a couple kilometres of the nearest station, making it easy to get around the city.
Upcoming Open Houses in NW Calgary
December 12, 2018
Amenities of the Northwest
One of the true benefits of living here are the amenities. Several parks are found throughout the area, providing great outdoor recreational options. Nose Hill Park is one example, a public 11-square kilometre park set right in the heart of this area. It's one of the largest urban parks in North America and provides trails for biking, walking, and cross-country skiing. Most of the houses for sale in the Calgary north west have great access to this central park. Other popular spots include Edworthy Park and Shouldice Athletic Park. Families love that some of the best parks in the city are here in the northwest. Complete with playgrounds, firepits, and lots of green spaces, it's a leading source of entertainment year-round.
Shopping is very easy here with several malls that cater to the region. One of the biggest centres is the popular Crowfoot Crossing, a multi-store site with dozens of entertainment, dining, and retail choices. Other malls include Market Mall, Northland Village, and Brentwood Village.
Calgary Northwest Schools
Calgarians living here, especially families, love to buy houses in the northwest for its school district. Some of the better schools in the province are right here. The University of Calgary also has its huge campus in this sector, larger than even the downtown core of Calgary. There are elementary schools, junior highs, and senior high schools that meet every student's needs. Schools like Bowness High School have excellent athletic programs while schools like King George Elementary provide top-notch French immersion programs for the entire quadrant. The public William Aberhart High School is one of the top 10 high schools in the whole province of Alberta.
If you feel like this area is perfect for you, maybe it's time to see if you can convert to the northwest. If you'd like to talk more about how we can help you find your dream home in Calgary's north west, call us today on 587-316-5400. Or you could start a conversation by email at [email protected]. Let us source the best home in this are for you.