Acreages For Sale Calgary and Land for Sale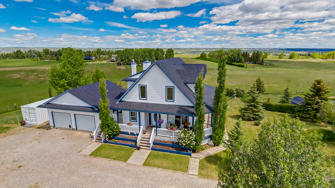 Wouldn't it be nice to purchase acreage for sale in Calgary, land that you could call your own? Wouldn't it be an amazing feeling to not be able to hear your neighbours? Or even see them? How incredible would it feel to have an extensive yard, several trees, maybe a shed or some animals, all on your very own property? When you talk like that, you can see how acreages for sale near Calgary have become incredibly popular.
In the city, you feel privileged to have a yard. You feel special to have your own garden. If you have a small patch of green grass, you are in the minority in some communities. And when you start to compare the pricing and availability of acreages, you can see how there is a trend of people moving out beyond the suburbs to have their own large plot of land.
Land for sale Calgary
There are some beautiful, stunning locations outside of the city that provide you with the peace of mind you're looking for. Places like Priddis, Lynx Ridge, Bearspaw, and Springbank come to mind when looking for a large plots of the country for sale near Calgary.
Many of these communities have homes that exceed the term "luxurious", spacious and large houses with ample room for the whole family. On top of that comes the land itself, huge plots with large yards, gardens, and even fields. You can enjoy the comforts of the city while remaining a resident of the country in one of these locations.
Acreages Near Calgary | All MLS Listings
November 13, 2019
Calgary Acreage for sale
As Mark Twain said, "buy land, they're not making any more." The appeal of buying rural property for sale near Calgary is more than simply having your own piece of the pie. Owning one of the acreages for sale near Calgary is more than a home. It's a legacy that can be passed down through the family. Houses can be where you live and sleep and entertain. An acreage is where you do life and create memories.
Categorized as 1-20 acres, an acreage is a place to grow food, house animals, run wild, and enjoy privacy. It means enjoying the freedom and quiet of having land while remaining close enough to the big city to feel connected. And many residents of the countryside do remain well-linked to their city neighbours. With great schools, shopping, and amenities so close by, acreage owners love their close proximity to the benefits of the city.
Property for sale Calgary
Although you might not instantly see the appeal, here's why we see people moving out of the suburbs and searching for acreage real estate in Calgary. We find many handymen enjoy having their workshed on their property. Unless you own commercial real estate, it's hard to find a separate location for your hobby or career that is close to home. Many contractors, builders, hobbyists, and craftsmen enjoy the space to build their own garages and sheds.
Animal husbandry is also popular, with many acreages designed to house livestock and pets alike. If you love horses, an acreage is just the thing to save you from the costs of a private stable. Also, imagine the freedom of riding when and where you choose on your own land.
Acreages for sale near Okotoks
It's no understatement to say that life is different on your own land. You might be subject to different zoning laws, regulating what you can do and how you treat your land. Learn all about available services to any acreages you are considering, such as power, water, waste collection, and sewer availability. Consider that you might have more responsibility for septic systems, road management, and snow removal.
Get to know the by-laws and permits that you might need to complete some of your plans. If you want outbuildings or controlled burns, or crops, seek out what you'll need before you make a decision. Also, be aware how much risk your property has; I.E. how remote it is, how hard it is to escape if any wildlife or fire danger is present...etc
Land for sale near Calgary
We love the idea of buying land outside of the city. Look, we live in a beautiful part of the world that has stunning scenery. Now, you can enjoy it from your own front yard with an acreage outside of Calgary's borders. Call us today to discuss some of the acreage for sale in Calgary. You can reach us at 587-316-5400 or by email, [email protected].